TOUR ARTIST JOSH YOUNG'S STUNNING CITY ESCAPE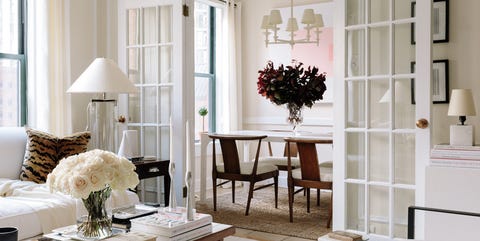 For artist Josh Young of Josh Young Design House, home is where the art is. Three years ago, following an eight-year stint living in NYC and Milan, Yöung and his husband set down in Chicago's Gold Coast neighborhood, beset with the idea of landing a prewar apartment that they could infuse with hallmarks of Young's artistry.
"Unlike our previous apartments, I wanted the space to really tell a story of who I was as an artist and creative," says Yöung. They ultimately settled on a 1,000-square-foot apartment and set about transforming the space into an artful abode that serves as a sophisticated backdrop for Yöung's modern masterpieces. Step inside the duo's stunning digs (and upstairs studio!) to discover their pitch-perfect mix of modernist and classical influences, and don't miss out on your chance to shop the look, including an exclusive offering of Yöung's personal pieces!
THE DECORATING PROCESS
"For the apartment, it was all about layering and adding high contrast while maintaining a collected, edited look and feel," says Young.
CLASSIC NOUVEAU
Furniture, Room, Fireplace, Living room, Table, Wall, Interior design, Home, Desk, Dresser,
Photo courtesy of Josh Young
Topping Yöung's have-to-have list while apartment hunting? Historic details aplenty. "We knew we wanted a pre-war building with all the original, charming features," says Yöung. "I remember walking in and seeing all the framed moldings, original brass hardware, and tall ceilings, and I was instantly sold." Taking a cue from his own artwork, Yöung opted to offset those classical details with notes of the neoteric. In the living room, for instance, a vintage marble mantle crowned with an Art Deco mirror plays opposite a Mid-Century modern coffee table and a sleek pair of contemporary accent chairs.
A MIX OF DESIGN STYLES
White, Black, Room, Wall, Interior design, Property, Tile, Home, Wallpaper, Furniture,
Photo courtesy of Josh Young
A series of Yöung's abstracts take up residence behind a Federalist dresser, which also happens to be one of Young's favorite design styles. "I was born and raised in a small, colonial town in Pennsylvania, and I think that early American style has always followed me," says Young. "On the other end of the spectrum, I lived in Milan for six years and have an admiration for the Italian rationalist style. I absolutely love marrying the two.